News
16th/17th April 2011
This weekend was very successful for Boycie's daughter Meadowpark Whisper's Breeze and son Meadowpark Sugar Daddy.
On Saturday at Working & Pastoral Breeds of Wales Championship Show, Breeze was awarded Best Puppy in Breed by the well known all breed judge Andrew Brace. Her half brother Boyd was awarded Best Puppy Dog. Gary handled both puppies at the show for the Meadowpark kennel and as usual did an excellent job!
"Meadowpark Sugar Daddy. 9 months, beautifully presented, perfectly schooled and stylishly handled. Quality head that is understandably immature and needing to finish, quite well marked. Ample bone and substance and correctly angulated with promising rib and firm topline. Moves out well, covering the ground with ease but goes a little close behind. Unusually accurate coming on. Lost Best Puppy to his kennelmate and half sister as she was more forward in head and a little more positive going away."
"Meadowpark Whisper's Breeze. 11 months, in beautiful condition, so well groomed and bodied. Excellent head type, pleasingly marked, great bone, substance and rib without being in any way cloddy and doggy. Optimum angles all through, her many virtues were emphasised by clever but sensible handling. Best Puppy, should have a very rosy future." — Andrew Brace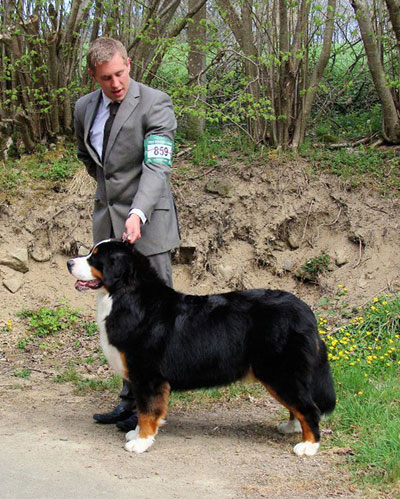 16th/17th April 2011
Anne Gerrard from the Torralbaz kennel in Scotland judged the Bernese Mountain Dog Club of Great Britain Open Show the day after. Breeze won the Puppy Bitch class, was awarded Best Puppy Bitch and went on to be Best Puppy in Show, beating Boyd who had won the Dog Puppy class and Best Dog Puppy award.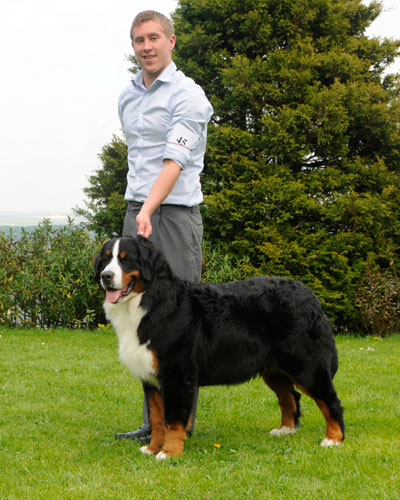 20th March 2011
Boycie wins the Reserve Dog CC at the Northern Bernese Mountain Dog Club Championship Show. The judge was breed specialist Lyn Brand from the Branbern kennel in Australia who was judging for the first time in the UK. Thank you Lyn for thinking so highly of my boy!
"3.5 yrs, masculine, strong, not overdone in any way. Pleasing, friendly head, broad skull, kind eye. Clean straight legs, pleasing, balanced front, showing enough angulation, correct length of neck. Firm, level topline, well rounded hindquarters, excellent in reach and drive on the move. Did not carry any excess weight. Excellent breed type. RCC." — Lyn Brand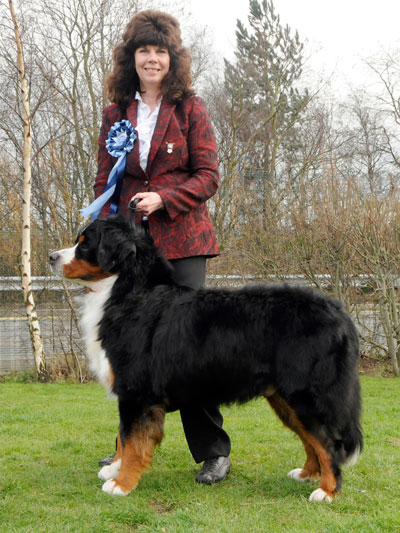 11th March 2011
It was a good Crufts again this year for the Stokerybos kennel – the judge Terry Munroe awarded the Reserve Dog CC to Icarus van't Stokerybos, the winner of Yearling Dog handled by Ivan. Bobbi Kinley-Blewett from the Adesa kennel in the US handled both Emerson van't Stokerybos who won 2nd place in the Open Dog class, and Boycie who won the Limit Dog class. Thank you Bobbi for doing such a great job with Boycie!
"A very well balanced and proportioned male with good head strength, dark eyes. Medium neck, well boned, balanced angulation, great topline, tight feet. Had the best balanced movement" — Terry Munroe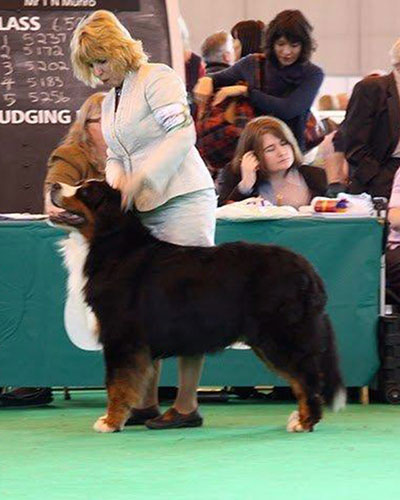 6th March 2011
Boycie's daughter Meadowpark Whisper's Breeze wins Best Puppy in Show and Reserve Best Bitch at the Bernese Mountain Dog Club of Scotland Open Show judged by breed specialist Donal Kelly from Ireland. At only 10 months old this is a fantastic achievement for a dog so young – we are very proud of you Breeze!
"This beautiful and most attractive girl of almost 10 months was so mature for her age, excellent breed type of medium size, lovely clean markings, feminine head which is developing nicely, beautiful dark almond shaped eye, well angulated front and rear, good spring of ribs, well off for bone, good bend of stifle, good topline, very well presented, and very competently handled and has great ring presence. I was pleased to award her Best Puppy in Show and Reserve Best Bitch. She should have a very good show career and I will watch her progress with interest." — Donal Kelly
Half brother Meadowpark Sugar Daddy also sired by Boycie, won the Puppy Dog class.
Handler Gary Dybdall is doing a great job with these promising puppies!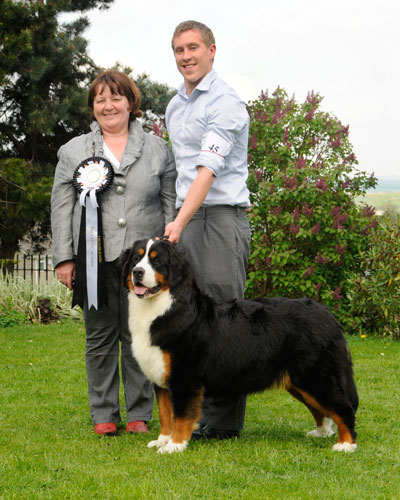 9th July 2010
Boycie wins the Reserve Dog CC at East of England Championship Show under breed specialist judge Jane Lamb (Bernalpen). He was handled by Carole Hartley-Mair in the Limit Dog class and Lisa Bridges in the challenge – thanks girls!
"A handsome two and half year old male of excellent proportions, head developing well, dark eyes, good ear set, he has correct front and rear angulation, correct tailset and carriage, he covered the ring on the move very easily. A striking balanced male. One to watch in the future. Res CC." — Jane Lamb
Boycie's son Gibson 'Meadowpark That's My Boy' was Best Puppy in Breed – what a great day!
13 June 2010
Meadowpark That's My Boy, one of the puppies from Boycie's first family, wins Best Puppy in Show at the Southern Bernese Mountain Dog Club Championship Show judged by breed specialist Margaret Nelson (Parracombe). Gibson won the Minor Puppy Dog, Puppy Dog and Maiden Dog classes, followed by daddy Boycie winning the Limit Dog class. A great family day out!
"Meadowpark That's My Boy. Exceptionally promising, exciting and memorable 8 months showman, never stopped smiling throughout his whole polished performance. Clearly loves the limelight, knows he's eye catching and tells you so, inquisitive and animated yet attentive to owner. Fantastic, beautifully presented jacket with rich tan, lovely white chest and plume on tail, underneath his embellishment there is so much to admire with his good skeleton, super body, bone to match, nice depth and breadth, lovely correct forehand, super rump, strong hocks, holds himself proudly with decent neck to compliment, so sound front and rear, gave an excellent circuit. Naturally needs to strengthen in head but love his expression. Packs eye-catching glamour coupled with quality, he was still powering round the ring in the puppy and maiden classes to take the top slots. The more I saw of him, the more I liked him. BPD, later jointly awarded BPIS." — Margaret Nelson
14 October 2009
Boycie becomes a father on his birthday – what a special birthday gift!
Ch. Meadowpark Special Lady gave birth to 8 puppies – 7 dogs and 1 bitch.
1 July 2009
GoodBoy van't Stokerybos arrives in England!
Thanks Dave and Jenny for all your support and guidance, and a special thank you to Dave for taking me to Belgium to bring Boycie back to England.